Cumbria snow: hamlet faces 'dire situation'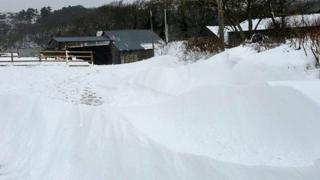 People living in a hamlet cut off by snow in Cumbria have said their situation remains "dire".
Electricity supplies have now been restored to all areas of the county, and many roads have reopened after the weekend's severe weather.
However, access roads to Hall Waberthwaite, near Millom, are still blocked by drifts.
Mark Osborn said that residents were looking out for each other, but food was starting to run out.
The 10 properties, including a farm, were also left without electricity from Friday to Sunday night.
Mr Osborn said: "The lane is completely blocked with five to six foot tall snow drifts and some are a lot deeper, estimated at being up to 20ft deep.
"There are another two farm tracks but they are also completely blocked.
"We're all running out of food and our neighbour has three small children and there are also pensioners down here too.
"We're all understandably looking out for each other and doing what we can."
Abandoned vehicles
He said that the local farmer had attempted to clear the roads using his tractor, but was unsuccessful.
"We are going to try to go by foot across the fields today to try to get to the road and then on to get provisions," he said.
"Getting the power back on is absolutely brilliant, and we will always be grateful to the efforts of all that have worked tirelessly over the weekend, but it is not the end of the problems we are having.
"We are still in a dire situation."
Cumbria Police said the A595, part of which had been closed for some time, had now reopened, but urged anyone with a stuck vehicle to contact them so co-ordinated arrangements could be made to have them recovered.
A spokesman added: "Please do not attend your vehicle until you have been requested and advised by police it is safe to do so, as the road is still closed, there may be a significant delay and weather conditions are still challenging."
Snow also led to the cancellation of the popular Coniston 14 Road Race on Saturday, for only the second time in its 32 year history.
Organisers said they had managed to contact the 1,600 runners after blizzard conditions hit on Friday.
There are hopes that the event, which raises thousands of pounds for local charities, can be re-scheduled for October.