Boyle Transport directors fined £1.8m for safety abuse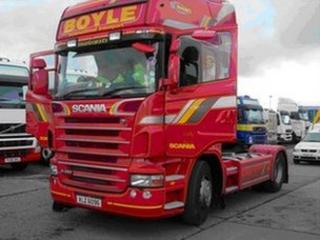 Two former haulage directors have been fined more than £1.8m after illegally endangering road users.
Patrick Boyle and Mark Boyle, jailed last year, now have six months to pay £1.1m and £738,000 respectively.
Drivers for Boyle Transport were found to have driven for up to 22 hours a day, more than twice the legal limit of 10 hours.
Cumbria Constabulary found that tachographs, which measure journey times, had been tampered with.
The fines were decided in a hearing at Carlisle Crown Court, based on the assets the pair had accrued through illegal activity, under the Proceeds of Crime Act.
Investigators found that between them they had benefitted from their crimes by more than £10m.
'Serious risks'
Patrick Boyle, 65, and Mark Boyle, 36, received respective sentences of two years and 18 months last year, but those will increase by five years and four years if they fail to pay their fines on time.
Cumbria Constabulary undertook the investigation with the Vehicle and Operator Services Agency (VOSA), after eight vehicles were stopped on their way to Cumbria in 2008.
Five of the lorries were examined and found to have modified wiring systems.
The following investigation was one of the largest ever either by Cumbria's Roads Policing Unit or VOSA, examining over 18,000 documents.
Police said an audit found readings for 91% of the company's journeys had been manipulated in some way.
Cumbria Constabulary's sergeant Graeme Hodgson said: "These two company directors placed people's lives in danger by manipulating their staff into taking serious risks on the road.
"This work practice enabled them to undercut deliveries on cost and time, and placed pressure on struggling competitors who were trying to work within the law."