Go Ape zip wires at Grizedale approved by planners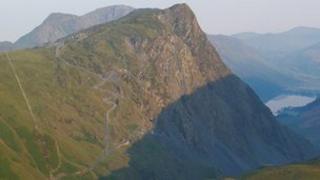 Planners have approved a set of zip wires at Grizedale Forest in the Lake District, planned by woodland adventure company Go Ape.
Named the zip trekking course, it will include seven tandem lines, the longest measuring more than 1,300ft (400m).
Lake District planners voted unanimously in favour after it was recommended by officials.
Satterthwaite Parish Council opposed the course on the grounds it would increase traffic and noise.
The decision was set to be made last month, but was deferred after planners decided to visit the site before casting their votes.
The zip wires will be ground to ground, going from a high point in Grizedale Forest, down the valley to the visitor centre at the bottom.
Go Ape business development manager Ben Davies said this would suit people who "don't necessarily like scrambling up the rope ladders and being too high up".
'Very intrusive'
Conservation group Friends of the Lake District did not oppose the plan, despite arguing against a similar application to install a zip wire at the Honister slate mine.
That application was controversially rejected earlier this year, leading adventurer Sir Chris Bonington to resign his vice presidency of Friends of the Lake District.
The charity's Jack Ellerby said it was best to put such structures in a forest setting.
He said: "The trees absorb the noise of people... and importantly hide those wires which could be very intrusive in a more open upland landscape."