Snow-hit Cumbria faces grass fires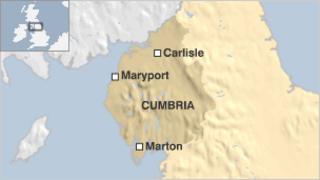 Firefighters in Cumbria have dealt with a spate of grass fires, despite some parts of the county still being under several feet of snow.
In the past week at least 20 grass and gorse fires have been tackled, with some being blamed on arsonists.
Fire chiefs say an extended dry spell has left vegetation around Cleator Moor, Maryport, and Whitehaven excessively dry and easy to set alight.
Yet hundreds of sheep have died in 20ft (6 metres) snow drifts near Ulverston.
A spokesman for Cumbria Fire and Rescue Service said: "Since 29 March there have been more than 20 grass fires in areas including Siddick, Cleator Moor, Maryport, Broughton and Whitehaven.
'Destructive blazes'
"The school holidays tend to lead to an increase in nuisance fires. So the Easter break combined with the dry conditions is seeing our resources needlessly stretched.
"Dealing with deliberate blazes means firefighters are tied up with avoidable incidents so may not be available to attend more serious emergencies.
"A small grass or gorse fire can rapidly spread and get out of control, putting property and lives in danger.
"We've seen in Scotland over the past few days just how large and destructive these types of blazes can be.
"Parents and carers need to be aware and make sure their children know that grass and gorse fires can quickly trap the person lighting them, especially if there's a rapid change in wind direction."
Last week, Frank Jackson, who farms on the fells at Marton, near Ulverston, said he had lost at least 60 pregnant ewes in snow drifts of up to 20ft (6 metres).
The National Farmers' Union (NFU) said the county's farmers had been hit hard by heavy snow, with hundreds of animals likely to have been lost.