Maryport Inshore rescue Service gets new boathouse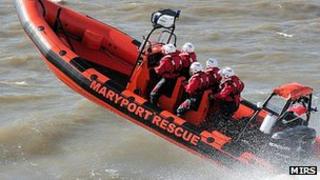 Work is due to start on a new £450,000 base for a Cumbrian lifeboat charity.
Maryport Inshore Rescue Service (MIRS) operates one high-speed boat independently of the RNLI in an around the Solway Firth.
The charity said the existing boathouse, built in 1865, was now unsuitable and was unable to accommodate its latest rescue vessel.
Funding for the new boathouse has come in part from West Cumbria's development agency Britain's Energy Coast (BEC).
'Energy and expertise'
Mike Messenger, of MIRS said: "This is a major step in realising our long-held dream to have a modern, fit for purpose boathouse that will help us to do our life saving work."
Steven Szostak, chief executive of Britain's Energy Coast, said: "The local volunteers at MIRS give their time, energy and expertise to help those in distress and we're proud to be supporting them in this way."
Cumbria County Council has provided two 500 sq ft units at its Maryport Business Centre free of charge so MIRS can store its equipment while the new facility is built.
MIRS was established more than 35 years ago. As well as carrying out rescues in the Solway Firth, the charity also aided emergency services during the recent Cumbria floods.