Fire at Siddick Ponds nature reserve 'heartbreaking'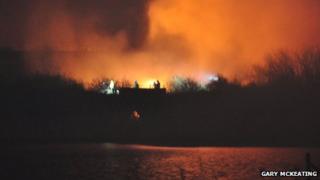 A fire at a west Cumbrian nature reserve that is home to dozens of bird breeds has been described as "heartbreaking" and "devastating".
The fire at Siddick Ponds, on the outskirts of Workington, is believed to have been started deliberately.
The reserve is home to dozens of bird species and is visited by migrating bitterns.
Allerdale borough councillor Michael Heaslip said it was "the worst time of year for this to happen".
The reserve is a Site of Special Scientific Interest, with its reed beds and surrounding grassland providing a home to more than 155 species of waterfowl and other birds.
Mr Heaslip said: "This is devastating for the nature reserve and it is heartbreaking to see the damage that has been caused.
"We will be looking closely at our bird populations to see what the lasting impacts are.
"The vegetation will regrow and repair itself over time but it is going to take many months before that happens."
Cumbria Fire and Rescue Service has dealt with more than 50 deliberate grass and gorse fires over the past two weeks and has blamed the increase on youngsters on holiday from school.