Barrow's St James' Church bells to ring again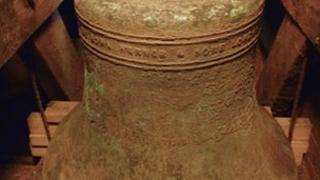 Badly rusted bells at a Cumbrian church are to ring out again after being silent for more than a decade.
The eight bells at St James' Church in Barrow were declared unsafe after being damaged by rain in their leaking tower.
But now thanks to a Heritage Lottery Fund (HLF) grant, the 136-year-old bells will be taken down and mended and the tower repaired.
The HLF has donated £74,400 to the project and local people have raised £79,000.
The bells will be cleaned of debris and corrosion and retuned at the Whitechapel Foundry in east London.
The Rev John Hodgkinson of St James' said: "When we found water pouring into the tower and more rotten floors than expected, we had a real setback but the HLF grant has let us deal with it all at the same time.
"We look forward to hearing the bells ring for Christmas."