Appleby Horse Fair goers urged to slow down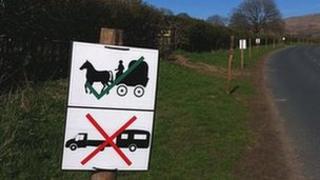 Visitors to a horse fair in Cumbria are urged to slow down by police.
Up to 10,000 Gypsies and travellers are expected to attend the annual event, at Appleby, with many arriving in traditional horse drawn bow-top wagons.
A spokesperson from Cumbria Police said horses can be easily "spooked" by fast drivers and added they wanted to ensure visitors get to the fair safely.
Appleby Horse Fair, which will run from 6 - 11 June, can attract up to 50,000 visitors and cause travel problems.
Cumbria sees an influx of slow-moving horse-drawn trailers and caravans in the area as gypsies and travellers come from all across Europe to the fair.
Police have produced a map for people travelling to the fair which highlights the safest routes and locations for stopping.