Windermere Steamboat Museum gets £200,000 grant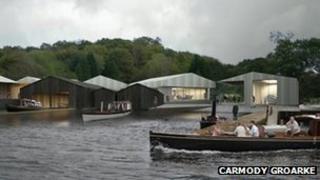 The £13m project to rebuild Windermere's steamboat museum has been give a £200,000 boost.
South Lakeland Council has awarded the money to the project which it is hoped will attract 100,000 visitors a year.
The attraction is currently restoring its collection of old vessels and redeveloping the site, which is set to reopen in 2015.
The proposals, which will include new jetties, will be considered by the council in July.
The money will be used by the Lakeland Arts Trust as part of a £13.3m project to revamp the site.
A council spokesman said: "The project will support the council's ambitions to create opportunities for economic growth and will help attract future inward investment to South Lakeland.
"This will help create a world-class centre. This project will preserve the economic future of Windermere and it fits in completely with what we are trying to achieve as a local authority."