Furness Academy principal Doug Blackledge suspended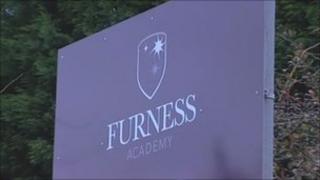 The Principal of Furness Academy in Cumbria has been suspended after the school failed its Ofsted inspection.
School governors said Doug Blackledge would stay off work until they had assessed the full report.
The Barrow academy replaced three schools, two of which were failing, in 2009 but has since struggled, coming near the bottom of the county's GCSE results tables.
In May Ofsted inspectors said the academy was failing.
In a statement, governors' spokeswoman Anne Attwood said the academy's sponsor organisations had supported the decision to suspend Mr Blackledge.
Ms Attwood said: "The provision of excellent teaching with the best facilities, so as to give every young person at the academy a fair chance to fulfil their potential, remains the single most important aim of the sponsors and governors."
Barrow Labour MP John Woodcock said he welcomed the governors treating the situation with "utmost seriousness".