Furness Academy in Barrow put in special measures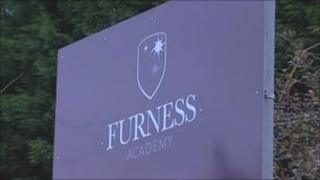 An academy in Cumbria has been put in special measures after Ofsted deemed pupils' achievements as "inadequate".
Furness Academy in Barrow, which failed its Ofsted inspection in May, was found to have high exclusion rates, low pupil achievement and inadequate teaching.
It replaced three schools in 2009, two of which were failing, but has since struggled, coming near the bottom of the county's GCSE results tables.
Ted Creighton, chair of governors, said he he was "concerned" by the findings.
The Ofsted report found academy leaders had not brought about improvement "sufficiently quickly" and criticised underachievement in pupils with special educational needs.
However, inspectors also noted that students felt safe in the school and support for younger students who need help with basic skills was positive.
'A vital role'
Ofsted said the academy needed to increase its teaching standards, make lessons more "challenging and engaging" and improve leadership and governance.
Mr Creighton said: "Naturally we are most concerned about the judgments made and we are now working very closely with our sponsors, teaching staff and interim head teacher to begin the process of putting together a plan that will deliver the improvements required.
"The Ofsted Action Plan, which we must submit by the end of the month, will play a vital role in identifying the way forward and in highlighting the work that must be done to equip our staff to move us out of special measures.
"The learning and progress of our pupils is of paramount importance and we are giving the action plan the utmost priority."
A temporary head teacher has been appointed at the academy after principal Doug Blackledge was suspended earlier this month.
In March, figures released under the Freedom of Information Act found that Furness Academy had the highest number of exclusions among academies in England during the year 2009-10.
The academy is due to move into a new £22m building by September.