Carlisle town hall renovation uncovers debt book from 1669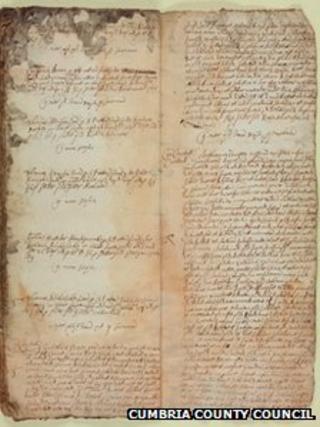 A 17th Century court book has been found in the attic of an old town hall in Cumbria.
The document, which is nearly 350 years old and written in Latin, was found during renovation work at Carlisle's Old Town Hall.
The 22-page book outlines 98 court cases, all detailing debts from the morning and afternoon of 9 August 1669.
A spokesman for Cumbria County Council said it was a "thrilling and unexpected find".
Discovered in the clocktower, the document is now being assessed and catalogued to be transferred temporarily to the council's archive services.
A decision will then be made on what preservation treatments are needed before it can be used for research.
'Snapshot of life'
Workman Colin Heatley who found the document, said: "I was in the most inaccessible part of the roof in the clocktower - it's very isolated there. It was covered in soot and nestled between two timber joists.
"It soon dawned on us that it might have some significance as we could see the date was just after the town hall was built. It was lucky we found it. It could easily have sat there undiscovered for another several hundred years."
The date of the document shows it was written just a few months after the town hall was built in 1669 to replace the medieval town hall.
The council's archive service manager Anne Rowe, said: "This is a thrilling and really unexpected find.
"The document has survived the centuries in remarkably good condition... it gives us a snapshot of life in the mid 17th Century."
The Grade I listed town hall is currently undergoing nearly £500,000 of repairs which are expected to be completed this month.