West Cumberland Hospital care standards criticised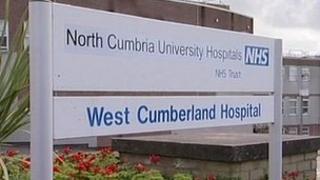 A hospital in Cumbria has been criticised for failing to meet national standards for care following an inspection by the health watchdog.
The Care Quality Commission (CQC) carried out an unannounced inspection at West Cumberland Hospital in Whitehaven in May.
It found action was needed in the care and welfare of patients, staffing and record-keeping.
A hospital spokesman said there was "no excuse" for not meeting the standards.
The inspection found there were not enough qualified and experienced staff to meet patients' needs and patients' care was "inadequate at times".
It also found records were not being correctly maintained meaning patients were at risk of "unsafe or inappropriate" care and treatment.
However, the majority of patients said they were "satisfied" with the care and treatment they received at the hospital, according to the report.
'Long journey'
Senior managers said plans were in place to rectify many of the issues around staffing and record keeping at the hospital.
Acting director of nursing Chris Platton said: "There can be no excuses for not meeting the expected standards set out in this report.
"[It is] unacceptable that both our staff and patients have historically endured standards of care which fall way below that of which any of us would expect from the NHS for our loved ones."
He said that since September, 102 more nurses had been appointed to ensure there was greater flexibility in workforce planning.
Mrs Platton added: "There is no doubt that we are on a long journey relating to improving the quality of the services we deliver and the feedback, so far, from this inspection shows that we are taking steps in the right direction and beginning to make a difference."
MP for Copeland and shadow health minister Jamie Reed said: "Today's report raises some deeply worrying concerns that need to be put right without delay.
"It is right that they have recognised where the failings were occurring and this must result in better patient care - this is the central priority."
Northumbria Healthcare NHS Foundation Trust is in the process of taking over the hospital as well as Cumberland Infirmary in Carlisle.