Beatrix Potter's scientific pictures on show in Cumbria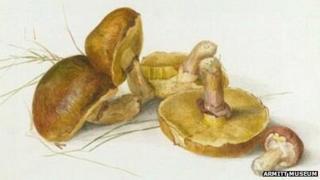 Rarely-seen works by one of the world's favourite children's author and illustrator are going on permanent display at a Cumbria museum.
Beatrix Potter is best-known as the creator of Peter Rabbit, but she was also a keen naturalist.
She produced hundreds of scientifically-accurate drawings and watercolours of plants, fungi, animals and archaeological finds.
They were bequeathed on her death in 1943 to the Armitt Museum in Ambleside.
Previously it has only had a few of the 450 items on show at any time, but the new exhibition will feature many more, and also include memorabilia and information about her skills as a businesswoman and sheep farmer.
'Amazingly bright'
Deborah Walsh, from the Armitt Museum, said: "Beatrix Potter had a very keen sense of observation.
"She was particularly interested in the study of fungi - and it should probably also be said that very few people were involved in this field at the time.
"Mycology was the sort of Cinderella side of botany.
"She wrote a paper which was read out at the Linnean Society - the foremost natural history society in the country.
"It was accepted, it was read, and then it disappeared.
"We don't know what happened to it. She didn't continue with this type of work."
The museum will also display Beatrix Potter's drawings of archaeological finds from excavations in central London in the 1890s.
These were donated to the museum in the 1930s, when she helped set up an exhibition on Roman finds from the fort near Ambleside.
Ms Walsh said that there were enough pictures in the whole collection to keep varying those on display.
"The fact that they've been stored away for years means that the colours are amazingly bright", she said.
"They are very alive."