Fearon Fallows mural unveiled in Cockermouth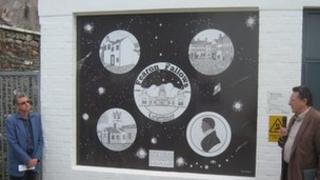 By the age of five, Fearon Fallows was dazzling his father with his mathematical ability.
Before reaching his twenties, he became a deputy head teacher and went on to be appointed King George VI's astronomer.
Fallows died aged 43 and has been "lost to history," campaigners in his hometown of Cockermouth, Cumbria, believe.
Now, in an effort to preserve his memory, the town's civic trust has unveiled a mural dedicated to his achievements.
'Neglected son'
Trust secretary John Dent said he hoped the mural had "raised the profile of somebody that's not necessarily well known".
"About 10 years ago the civic trust and the Cockermouth Astronomical Society got together and raised some money with the idea of a millennium project to commemorate him, but it never got off the ground," he said.
The artwork, by Victor de Quincey, has been installed on an electricity substation on Lowther Went after the project was revived last year.
Fallows was born in a cottage that now forms part of the Trout Hotel.
Mr Dent said: "People are quite well aware that Wordsworth House because of William Wordsworth but next door there's a cottage where Fearon Fallows was born.
"He made a bigger contribution than many people realise, mainly because of his mapping of the southern skies."
Tropical diseases
The civic trust believe Fallows is one of Cockermouth's "neglected sons".
"He was a great mathematician," Mr Dent said.
"At the age of five he used to astound his father doing mental arithmetic.
"This was picked up by the local Quakers, who were very big in the town, and they subsidised his schooling."
Fallows mapped stars for the King in South Africa, where he contracted a number of tropical diseases and died in the late 1700s.
Mr Dent hopes the mural will help people in Cockermouth "start to recognise the contribution" made by Fallows.
"So many people just get lost in history," he said.