Holme Cultram St Mary abbey appeal for renovation funding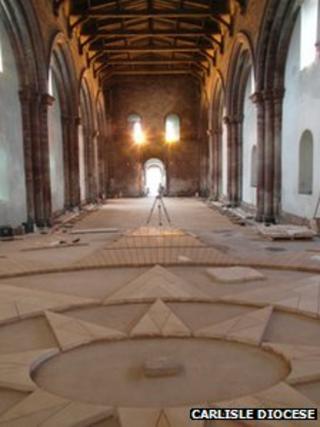 The congregation of a 900-year-old Cumbrian abbey left badly damaged in an arson attack, are appealing for help to complete its renovation.
Holme Cultram St Mary in Abbeytown suffered extensive damage following the blaze in June 2006, destroying the roof and affecting masonry and the interior.
Now after £1.6m of repair work, the church needs to find £450,000 to complete the renovation.
The Reverend David Tembey said he was "delighted" it will be in use again.
Phased construction work began at the church in 2007, with a new roof being built, masonry repaired and new flooring and under-floor heating laid.
Mr Tembey said: "It will be good to worship in the abbey, although we have no power or lighting.
"We can open the door to visitors during the day and raise some money from their donations... the community will be delighted that we will be able to hold baptisms, weddings and funerals again.
"We still have a lot of work to do but the major work has been completed and the site will be a fantastic witness in the area."
The money needed for the final phase of construction, would allow for completion of the floor and heating, lighting, power and fittings and furniture.
While work has been carried out the congregation has met in a side room of the abbey.
It is hoped services can be held in the shell of the building from September, while fundraising continues to help pay for the final works.
The abbey was founded in 1150 by Prince Henry of Scotland, who gave the land to Cistercian monks from Melrose Abbey to settle.
It is the resting place of the Earl of Carrick, father of Robert the Bruce.