Windermere power boat event bucks speed limit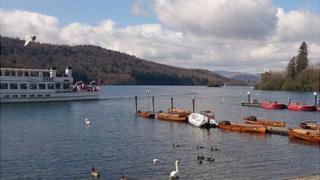 Power boat racing has returned to England's largest natural lake for the first time since a speed limit was introduced in 2005.
The 10mph limit on Windermere was aimed at restoring the lake's tranquillity.
However, the move sparked criticism from some users and in 2012 the Lake District National Park Authority approved exemptions for special events.
Two races, organised by the Windermere Motor Boat Racing Club are taking place over the weekend.
Ted Walsh, from the club, said: "It's been a long and stony path, shall we say, but we are very pleased we have been able to settle our differences.
"The 10mph limit is still in place, it hasn't changed, but we have got a dispensation to run some events at more than that."