Keswick old police station and court sold to pub chain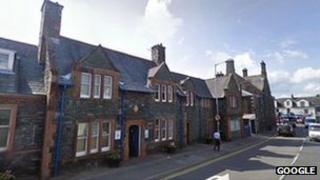 An old police station and magistrates' court in Cumbria has been sold to a pub chain.
Keswick's old police station and magistrates' court was one of dozens of buildings put up for sale in August by Cumbria Police Authority.
The authority has to save £20.3m from its budget by 2016 and said £2.8m would be raised from selling the buildings.
Keswick's policing team has moved to the town hall to "keep a presence" in the town.
The building, co-owned by the office of the Police and Crime Commissioner and Cumbria County Council, was bought by pub chain JD Wetherspoon.
Cumbria County Councillor David Southward said: "I'm delighted that we have at long last been able to sell this building... the money from our share will be invested back into frontline services."