Haig Colliery Mining Museum wins £2.4m lottery grant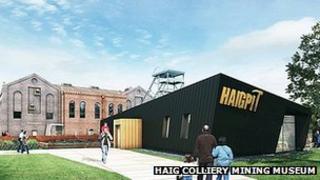 More than £2m is to be spent restoring part of a Cumbrian mining museum.
The Haig Colliery Mining Museum in Whitehaven will use the £2.4m Heritage Lottery Fund grant for a new visitor centre and restore existing buildings.
The museum will be closed for about 18 months while the work, which also includes the creation of a document archive, is carried out.
The current museum is housed in the former engine house, which still has one example of the original headgear.
In 1993 the struggling museum was bought by campaigners for £1 and is now run by a board of volunteer trustees from the local community.
'Traditions and tragedies'
Trustees chairman Bob Metcalfe said: "The proposals are designed for both local people interested in their coal mining heritage and visitors to the area.
"The Haig development will contribute to the development of modern visitor facilities in Whitehaven.
"Whilst the new facility will see the retention and enhancement of the coal mining buildings and collection, the new Haig aspires to be much more of a local community focused centre able to provide jobs, volunteering opportunities and educational placements.
"Spanning two floors and using the existing museum collection, the new museum experience will very much reflect the local stories, landscape, traditions and tragedies of the West Cumberland coalfields."
Coal mining in West Cumbria dates back to the 13th Century when monks from St Bees Abbey supervised the opening of coal mines at Arrowthwaite.
Haig Colliery closed as a deep mine in 1986 and many of the original buildings were demolished.