Father and son porcupine pair prompts Penrith warning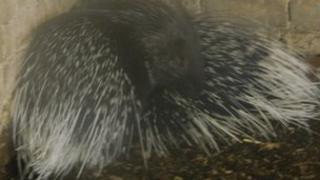 People have been warned not to "corner" two escaped porcupines - one the size of a small dog - which have escaped from an animal sanctuary in Cumbria.
The pair, a father and son, chewed their way out of an enclosure at Wetheriggs Animal Rescue and Conservation Centre in Penrith earlier.
Terry Bowes, who runs the centre, said they would run backwards and "spike" anyone who cornered them.
He said the baby's mother was waiting to be "reunited" with her family.
Mr Bowes said he believed the baby was still at the animal centre but hiding under a building.
'Small dog'
"The whole family had been at the centre for a few days and had all escaped, although the mother was recovered straight away," Mr Bowes said.
"There was a sighting this morning but I think that will have been the male which is about the size of a small dog."
"They are nocturnal animals so chances of seeing them in the day is unlikely."
The animals are not aggressive but will "spike" anyone who make them feel threatened, with quills which can be up to 12in long, Mr Bowes said.
He added: "The mother is waiting in an enclosure to be reunited with her family.
"If anyone sees them don't corner them as they will run backwards into you with their quills.
"Once it gets to dusk we will be out looking for them and we feel confident we will find them.
"They are completely vegetarian and it won't be any problem for them to find enough fodder, rooting around the English countryside - but we do expect to find them."