Barrow's Walney School: Part of bug-infested roof 'could be removed'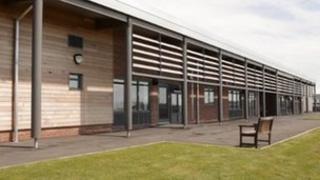 Part of a school roof which became infested with insects, forcing the building to close, could be removed.
Walney School in Barrow-in-Furness shut on 21 September after reports that about 20 students had been bitten by what were thought to be harvest mites.
Cumbria County Council carried out an investigation to find out what type of bug caused the infestation, but tests proved inconclusive.
The council said it would now have to treat the turf roof or remove it.
The bugs were found in the roof of a new £6m extension, which opened 18 months ago, leading to a need for alternative accommodation.
Cumbria County Council, Public Health England, Barrow Borough Council Environmental Health and pest controllers carried out an investigation but the source and species of insect was not identified.
'Return to normality'
A report by Public Health England identified the roof as one "plausible source", but the council was unable to find any other turf roofed buildings that have been linked to this type of problem.
The council said it was now considering two options - intensive treatment of the turf roof covering or its removal, which would be an interim arrangement to eliminate it from the on-going investigation.
A council spokesman said: "Our over-riding priority in this situation has always been to return the school to normality as soon as possible.
"We must be very clear about the costs, timescales and impact on the school of each of these options."
Scaffolding will be erected at the site on Tuesday for further investigation.
The council said a final decision will follow this work.
The 700 pupils are currently studying a shortened timetable in the school's old building.