Community chorus set for Radio Cumbria 40th anniversary show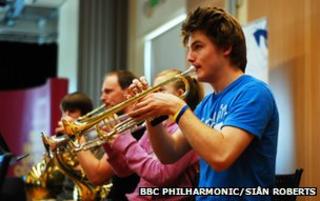 A community orchestra and chorus is preparing to take to the stage with the BBC Philharmonic to celebrate BBC Radio Cumbria's 40th anniversary.
The recently formed amateur group will join BBC Philharmonic musicians at Whitehaven Sports Centre on Saturday for a live broadcast.
Some of them had never played instruments before attending taster workshops in the summer.
The sold out concert will be broadcast live on Radio Cumbria from 18:00 BST.
Together they will perform a work they have composed inspired by The Sorcerer's Apprentice, the tune famously used in the film Fantasia.
Among those performing at the Flatt Walks venue as part of the 80-strong Cumbrian Community Orchestra and Chorus are Geoff Restrick and his nine-year-old granddaughter Carenza Curwen, from Whitehaven.
Family link
"In my teens and 20s I sang quite a bit and then came back into it about five years ago," said Geoff, a 65-year-old supervisor at the Sellafield nuclear plant.
"My wife, Denise, was listening to Radio Cumbria in the summer and heard the announcement about the community choir.
"From that, I got a phone call at work and she said, 'Why don't you give it a go?'
"I mentioned it to Carenza, we went to the taster sessions and now here we are. All set to perform."
The initial sessions were held in Workington and Dalton-in-Furness following an appeal for members - from keen amateurs to those who had no experience but a willingness to learn.
Based in MediaCityUK, Salford, the BBC Philharmonic is regarded as one of the finest orchestras in Europe.