Coniston Power Boat Records Week draws daredevils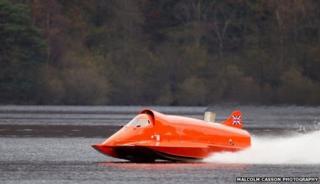 Coniston Water is regarded by many as the "spiritual home" of record breaking - a five-mile lake where Donald Campbell strove to break the world water speed record and died trying. This week Campbell's successors are aiming to put themselves in the record books - but what drives these daredevils to risk their lives?
From all walks of life they come. Inspired by the feats of Campbell and his father, Sir Malcolm, they are taking to the water for Coniston Power Boat Records Week.
For almost 100 years, Cumbria's lakes have played host to the seemingly fearless souls attempting to write their names into the record books. On Ullswater, Windermere and Coniston Water they have tried, spurred on by the likes of the Campbells and Sir Henry Segrave.
The contest has run since 1970 and was moved to Coniston in 2005 when a speed limit introduced on Windermere forced them to look elsewhere.
Adrenalin rush
From small hydroplanes to circuit racers and offshore boats, dozens of determined entrants take on the clock over a kilometre (two-thirds of a mile) stretch of the famous lake.
While junior categories will see speeds of up to 50mph (80km/h) reached, those at the top end have clocked in at almost 180mph (290km/h) in previous years.
For most, the adrenalin thrills of the event, running until Friday, provide a stark contrast to their usual surroundings.
"You want to be the fastest, it's that simple," says Jim Noone, matter-of-factly.
The 55-year-old - the quickest man on Windermere after reaching 154.8mph (249.1km/h) in 2003 - may initially seem an unlikely world record holder.
An analytical chemist based in Leeds, he spends most weeks testing the composition and quality of concrete. Formerly the owner of the business, he sold it five years ago and now acts as a consultant.
"It's all done in holiday time," he says about his record-breaking attempts.
"I leave on a Thursday evening and am back to work on the Tuesday."
He said his work and play were "very different" although "they both require a very thorough approach - you can't leave anything to chance".
Mr Noone, who lives just north of Barnsley, has a strong link with Records Week having attended the very first event 43 years ago, at the age of 12 with his father.
Over his 25 years of competing, he has set several world bests and is now also a member of the organising committee.
"Record-setting is much more intense than racing - you don't break records at half throttle," he says.
"All your senses are heightened. It's like you're floating. You can't even see any spray."
It's a similar story for 40-year-old Seattle roofer JW Myers. He has set 12 world records in 20 years, including a speed of 176.1mph (283.4kmh) at Coniston last year in the H1 Unlimited class - the fastest and most powerful category of race boats.
"I've never taken drugs, but I imagine this has got to be way better," he says.
'Absolutely nerve-racking'
Company director Neil Jackson - at the controls of a high-spec B23 "Batboat" costing around £20,000 - is another drawn to the extreme nature of the sport.
The 50-year-old from Portsmouth, who has set a number of endurance records as well as the BCC Class 2 British best of 79.51mph (127.9km/h), spends his working week travelling up and down motorways visiting clients of the two firms he is involved with.
"I grew up on the River Thames so I've always been interested in boats," he says. "I started 23 years ago and was involved in a safety capacity, but then I thought, 'I wouldn't mind a piece of that'.
"Making a record-attempt is absolutely nerve-racking - you're on the rev limiter so quickly and you're putting your foot through the floor because you're wanting more speed. Eighty-something miles an hour on water is rapid."
But it is not just adults who are taking to the water. Swapping the classroom this week for the majestic setting of Coniston is 13-year-old Ben Jelf.
Following in the footsteps of his father, grandfather and uncle, the pupil at Swadelands School in Maidstone, Kent, competes in the GT15 class - the entry level for nine to 16-year-olds.
Classroom to Coniston
He holds the world record for the category at 44.4mph (71.4kmh) and has triumphed in British and European racing championships.
"As it's a specialist sports college, my teachers are very encouraging. The racing is always more exciting than school work though," he admits.
But does he ever struggle to combine school work with his sporting activities?
"I'm quite disciplined about getting my homework done," he says.
"I always manage to fit it all in."
The racers' passion comes at a price as equipment and running costs mount up. Mr Noone, though, said he was happy to make sacrifices.
"I don't have holidays and I don't spend money on the house. Every penny goes on the boat, probably £5,000-8,000 a year."
But while all are agreed the sport's high speeds and technical challenges are captivating, it is not without its risks - as Mr Noone knows all too well. His 17-year-old half-brother, BJ, was killed in 1997 when he was hit by another boat.
And Mr Noone himself has suffered serious injury. He was left in hospital after a crash on Windermere in 1991 in which he injured his shoulders and back.
"The nose lifted and the boat ended up 60ft clear in the air," he says.
"I wasn't strapped in so was able to propel myself out. I knew I couldn't have it land on top of me."
Undeterred, he made a return the following year when he had the satisfaction of topping 103mph in his one-litre inboard hydroplane - smashing the record he had been aiming for 12 months earlier.
"I had unfinished business. I had to go back," he adds.
"But it can go right or wrong in just 25 seconds and the slightest bump means you can go over. The end of the run is a mix of relief and elation."