Retailers oppose Cumbria County Council's parking charge plan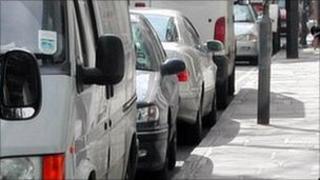 Retailers across Cumbria are objecting to plans to introduce on-street parking charges - saying it will be the final straw for struggling shops.
The county council is considering stopping free disc-parking in many parts of Cumbria and replacing it with parking meters as part of efforts to save £24m.
The authority has stressed it is only a proposal and is out for consultation.
However, a petition has been started by traders in Cockermouth.
Toy shop owner Jonty Chippendale is the chairman of the town's Chamber of Trade.
'Slippery slope'
He said: "Every study in the last 10 years has shown parking charges in small market towns have a very significant effect on the number of people who shop there.
"Most businesses in these recessionary times are just getting by. It only takes a small level of change in the support they get to put them out of business."
Dave Fletcher, development manager of the Washington Square Shopping Centre in Workington, is also worried.
He said: "It will see shops close. The county council isn't listening to businesses or looking at the economy."
The council is inviting comments from traders and members of the public until 20 January, 2014.
The earliest they could be introduced is October, it said.
It said it currently costs the council £370,000 per year employing staff to enforce free parking regulations and maintain signage.
'Huge numbers'
Keith Little, the county councillor for highways and transport, said: "We have £24m to save this year and we've already saved £77.7m since 2011. Those are huge numbers.
"Cumbria is a small county council and one of the few that still allows free on-street parking."
He added the level of charges would be decided by local area committees.
A previous move to introduce on-street charges was scrapped in January 2011 following a negative public reaction.