Crosby Garrett Helmet attracts 1,700 visitors to Carlisle's Tullie House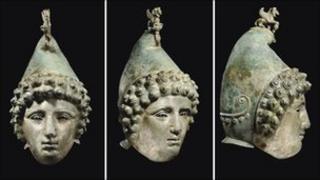 A rare roman helmet has helped attract 1,700 visitors to Carlisle's Tullie House in the past five days.
The Crosby Garrett Roman cavalry helmet went on display last Friday.
It was named after the village near Penrith where it was found. It sold for £2.2m at auction in 2010 to a private bidder, who allowed it to go on show.
Tim Padley, curator of archaeology at the museum, said: "It's amazing. Everybody has been fascinated and so supportive."
The number of visitors was almost triple the figure for the same time last year, when the museum attracted 681 people.
Mr Padley added: "We knew it would be popular after the great response to the appeal we had when we tried to raise money to bid at the auction."
The object was discovered by metal detector enthusiasts.
After its stint at Carlisle, which runs until 26 January, the helmet will go on show at the British Museum in London.