Car park plan for site of Carlisle's former Lonsdale Cinema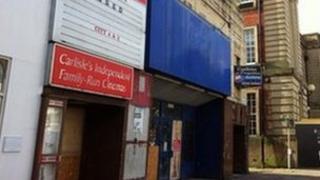 The former Lonsdale Cinema in Carlisle is to be demolished and the site turned into a car park, its new owners say.
The dilapidated building was bought at auction for £630,000 last month by businessmen Simon Harrison and Robin Graham, of Burge Halston.
They plan to complete demolition of the Warwick Road building by next March in time for the opening of their hotel business.
Carlisle City Council will discuss the plans at a meeting next month.
The cinema closed in 2006 and has become an eyesore in the city centre.
Opening for the first time in September 1931, the art deco building was awarded Grade II listing in 2007, but de-listed in March 2010. In November that year, it was damaged by fire.