Nuclear waste repository: Cumbria attacks government move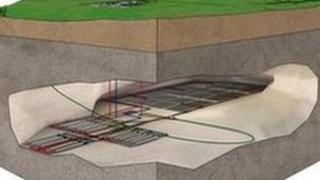 Cumbria County Council has branded the government's decision to exclude it from talks over the search for an underground nuclear waste store "outrageous".
The authority has officially responded to the Department for Energy & Climate Change (DECC) over the revised search process announced in the summer.
In January, the county council voted against staying in the talks.
The government then enabled district councils to make the decision.
Copeland and Allerdale district councils had previously been overruled in expressing an interest in being considered over where to store high-level radioactive waste.
The DECC said having such a store would bring in jobs and other economic benefits.
'Democratic process'
In January, the county council's cabinet voted seven-three against staying in the process over fears it could not secure the right to withdraw at a later stage. It also wanted firm agreements about community benefits.
Now it has responded to the DECC's revision of the process.
Labour's Stewart Young, who is leader of the authority, said: "We think it's outrageous.
"There was a democratic process which was carried out, culminating in a decision at the end of January.
"It looks as though the government didn't like that decision and so they are inventing a new process that will exclude that level of council - the county council - that took that decision.
"Events really show there hasn't been a right of withdrawal. We withdrew West Cumbria from this process and now they [the government] have come back for another go."
He added "any idea that this in net terms creates jobs is nonsensical".
'Lasting benefits'
A DECC spokesperson said: "Geological disposal is the right approach for the long-term, safe and secure management of the UK's higher activity radioactive waste.
"Hosting a site would bring lasting economic benefits with jobs, opportunities for businesses and a generous benefits package to support the community.
"We want to make sure those benefits are well understood and supported by all those in the area surrounding any host community."
The DECC said the national site selection process would be re-launched in 2014.
The first stage of the revised selection process ends next month.