Team bids to recreate historic Waterbird flight on Windermere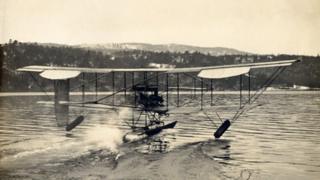 The team attempting to recreate Britain's first successful floatplane flight has launched a £160,000 fundraising drive.
Waterbird took off and landed safely on Windermere on 25 November 1911.
Now enthusiasts are bidding to recreate that flight in 2014 by building a replica of the plane.
The craft is 60% complete but the team is appealing for people to "adopt a part" from £3 each in order to raise the finance to complete the build.
It is being built from similar materials to the spruce wood and wires that held the original Waterbird together.
The Lakes Flying Company (LFC), a registered charity, revealed a scale model at Windermere earlier to mark the appeal launch.
Twenty-two parts are up for adoption, including wings, fuselage, engine, propeller and floats. Most are split into 50 units, while the £4,500 needed for turnbuckles is divided into 1,500 £3 units.
Each person who donates will receive a certificate detailing which part they have paid for.
'Exciting times'
The replica is being built in Lincoln, spearheaded by former RAF serviceman Gerry Cooper, who plans to take the controls when it is ready to fly on Windermere.
LFC's Ian Gee said: "These are exciting times. This is a unique opportunity to be part of a compelling story signalling the birth of naval and civil hydro-aeroplanes in the UK."
Herbert Stanley Adams was at the controls as Waterbird became the first successful flight from water in the British Empire.
Two earlier attempts by other teams at Barrow Dock and Windermere had ended in failure when neither was able to land safely.
Just four months after its successful attempt, Waterbird was destroyed when a storm caused the hangar to collapse.
Several sections, including the rudder bearing the name of her builders - AV Roe of Manchester - are held by the RAF's museum service.
Information on the share scheme can be found on the charity's website.