Barrow MP John Woodcock treated for depression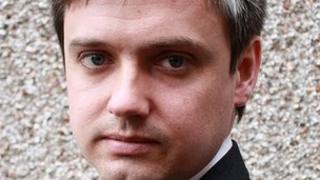 A Labour MP has revealed he is being treated for depression after suffering from "black moods".
Barrow and Furness MP John Woodcock said he was taking anti-depressants as he was often left "utterly drained" by the amount of time it was taking to recover from an accident last year.
Mr Woodcock resigned from the shadow cabinet after falling from a ladder.
Writing on his website on Wednesday, he said he hoped to help tackle the stigma surrounding the condition.
Mr Woodcock, 35, said he believed he was still doing a "decent job" representing his constituents in Barrow and Furness and hoped the matter would not be considered a "big deal" by voters.
Labour leader Ed Miliband sent his "thoughts and best wishes" to the former shadow transport secretary.
Mr Woodcock described how he had previously been helped by anti-depressants as a student and again after the death of his sister a decade ago.