Fylde Guitars' Roger Bucknall looks back at 40 years of acoustic adventures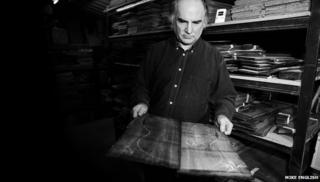 Keith Richards, Pete Townshend, Bob Dylan and Sting have all had guitars made for them by Roger Bucknall. Now after 40 years of hand crafting the instruments for musical royalty, the guitar maker has revealed some of his many adventures.
"Pete Townshend phoned up when I had some customers in the office. They thought it was amazing," says Mr Bucknall.
"It's pretty normal to me now, but it's still a thrill."
Painstakingly building acoustic guitars has brought him an enviable client list.
Brit Award-nominee Richard Hawley is currently awaiting a new instrument, while other famous names have included Mick Jagger.
And he and Keith Richards are not the only members of the Rolling Stones to have been impressed by Mr Bucknall's handiwork.
On a roll
"Bill Wyman bought a bass and sent it to John Entwistle [of The Who] in the south of France as a present. That was nice to hear."
Another highlight came when Bob Dylan was handed one of Mr Bucknall's creations.
"He'd covered an old song called Canadee-I-O and recorded it with a very similar arrangement to the one used by Nic Jones [a folk star and friend].
"When he toured the UK about 10 years ago I contacted Dylan's manager.
"He was presented with one very similar to the Orsino model of mine that Nic had used."
Perhaps surprisingly, though, he does not always come face-to-face with the stars.
"I've never met Jagger or Richards," he says.
"I had an agent in New York in the 70s and his girlfriend lived with some major artists.
"That's how they heard about my guitars."
So now aged 63 and with about 10,000 instruments bearing the Fylde name, what is the secret of a good guitar?
"Well," he says.
"The customer is always wrong as far as I'm concerned."
He is not joking.
"I like to make a guitar that suits me because then I can concentrate on the match of timbers.
"I started to make a certain sound, it worked and I stuck to it. I concentrate on tone rather than volume.
"My guitars have a 'rounded' sound whereas American guitars have a big, booming bass."
And he is not a fan of the electric variety.
"It's just a plank of wood with other people's hardware bolted on," he says.
Demanding customers
Although keen to do things his way at his base at Penrith in the Lake District, Mr Bucknall knows the stars are just as demanding of quality.
"They can be quite particular, but they come to me because they know I can deliver it."
However, obstacles remain - not least an allergy to some of the timbers he works with.
"An awful lot of the work we do is by sanding, but I mustn't get the dust on my skin," he says.
While he can now charge anything up to £6,000 for one of his instruments, Mr Bucknall's efforts were not always so successful.
He made his first guitar in his father's garage from plywood and fishing line at the age of nine - it was pink with flowers on.
Gaining engineering experience in his teenage years at the Cadbury's factory in Birmingham where his father had the "best job" - a chocolate taster - he moved to Southampton after graduating from Nottingham University.
A regular in the area's folk clubs, he developed friendships with up-and-coming musicians.
"They slept on my floor half the time," he remembers.
Word of mouth meant his guitar-making skills were soon in demand.
Down in the basement
In his 20s, he decided to concentrate on his passion full time. Mr Bucknall and a friend moved north to Fylde, Lancashire, in 1973 and Fylde Guitars was born.
Their humble abode was the basement of a gentleman's outfitters in St Anne's.
"Whenever they had customers, the people in the shop would bang on the floor to tell us to make less noise." he says.
A year later they relocated to an old cotton mill in Kirkham.
Like any gripping rock 'n' roll tale, though, the tremendous ups have been matched by equally striking lows.
After success through the 1970s, the following decade heralded a new era as electronic artists began to dominate the music charts.
"The orders weren't coming in any more," Mr Bucknall says.
"The firm crashed. I lost everything."
Salvation came from an unlikely source as he went into business with world snooker champion Ray Reardon and began making cues.
As well as developing the push-on cue extension, he pioneered an aluminium cue case.
"Steve Davis had one," he says.
"I remember he crashed his Porsche - the car was trashed but his cue was OK."
Still making guitars for a select group of stars, including Sting, Andy Summers and Stewart Copeland of The Police, by the dawn of the 1990s Mr Bucknall realised he had "unfinished business".
"I felt cheated out of it. It had been very successful, but I had not given it my best shot."
Still working in the old cotton mill, he once again focused on guitars.
'Like a Stradivarius'
The woods are sourced from across the globe with New Zealand swamps and Californian rivers providing prime samples of kauri and sinker redwood.
The conditions, he explains, were ideal: "They season the wood and that stops it splitting. It's like with a Stradivarius violin."
Married for the third time and with two children and two stepchildren, Mr Bucknall lives near Keswick "in a lonely valley - just how I like it".
He has recently written a book, Wood, Sweat and Tears, which tells of personal triumphs and tragedies while showcasing his instruments.
"I've reached a point where my work is acknowledged and I wanted to get everything down.
"I'd like people to know the truth rather than the rumours."