Power cuts affect 1,000 Cumbria homes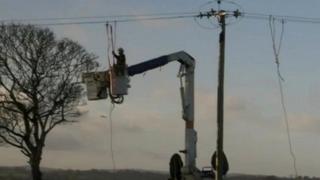 About 1,000 homes in Cumbria remain without power for a second day after gales caused disruption.
At one point on Friday about 24,000 properties were affected, but most were reconnected overnight.
Electricity North West said engineers were working restore power to the area of Workington which remained affected.
Problems were also reported on the roads with the A596 in Wigton closed for most of the day while repairs were carried out to electricity poles.
The A66 reopened late on Friday after being shut in both directions for much of the day.
In Seaton, Workington, part of a roof and chimney were blown through the living room window of another property, and in Barrow part of a house partly collapsed, crushing a car parked below.
Cumbria Police said it had received 160 calls for service in relation to weather-related incidents.
An Electricity North West spokesman said: "The wind has blown trees and debris into overhead power lines and snapped electricity poles in a number of areas.
"Yesterday conditions made it difficult for engineers to access sites due to trees blocking roads, and the wind also prevented linesmen in some areas from climbing poles to restore supplies.
"We've drafted in extra engineers to help clear the trees and debris to ensure we restore power as soon as possible."