Fire engines to be cut in five towns in Cumbria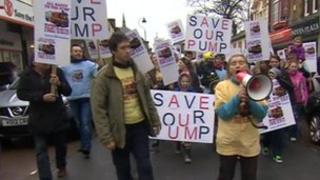 Hundreds of people marched through a Cumbria town in protest at cuts to the fire service.
The county council is proposing that five district stations, including Penrith and Whitehaven, would each lose one engine.
The Fire Brigades Union (FBU) said the move would risk lives and its members marched through Penrith to protest over the plan.
The proposals also include the closure of Dalton fire station.
The plans are being consulted on in a bid to save £24m from the council's 2013/14 budget.
The council said that across the county, incidents attended had gone down from more than 6,500 in 2007/08 to fewer than 4,500 in 2012/13, a drop of 34% and that fire-related injuries were down 69%.