Ex Cumbria Chief Constable Stuart Hyde criticises inquiry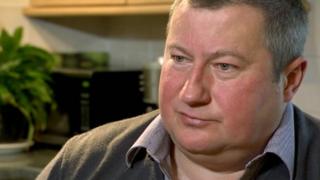 The former Chief Constable of Cumbria Police has spoken of "an unfair process" after a year-long probe into misconduct allegations against him.
Stuart Hyde was on secondment in the role from his post as Deputy Chief Constable when he was suspended in September 2012.
He was eventually cleared of misconduct but then retired in December.
Cumbria's Police and Crime Commissioner Richard Rhodes said the suspension was "in accordance" with regulations.
The Independent Police Complaints Commission cleared Mr Hyde in 2012, but an investigation by South Wales Police continued.
That second inquiry found no evidence of misconduct but made recommendations covering breaches of guidelines on using the force credit card, overseas trips, social media and recording gifts and hospitality.
Mr Hyde, who had a 30-year police career, was then re-suspended from his job by Mr Rhodes, who was unhappy with the report's findings.
"I don't think that's what justice is about. It doesn't feel like a fair process at all. What it feels like is a one-sided view," he told BBC Inside Out North East and Cumbria.
"People that made allegations... their information and allegations were treated as correct without an opportunity for me to address them.
"I never thought I would understand why people take their own life, but I think I understand that now."
Pie lover
One tweet that may have caused offence included a photograph of a pie.
Mr Hyde said: "If [someone said] it caused them offence I would've removed it.
"Will I stop eating them? Absolutely not. I thoroughly enjoy them. In fact they're delicious."
Mr Rhodes criticised him over a photo taken at a charity event in Tunisia which showed him in swimming trunks.
But Mr Hyde said: "I think if I was engaged in a swimming event people would expect me to be wearing swimming trunks. Had I been stood there in uniform it would have looked a bit daft to say the least."
After being re-suspended, he was asked to retire immediately or resign - a move Mr Hyde fought.
He said: "I think it would have said [to people] 'you were guilty of something and ran away'."
The investigations cost almost £500,000.
This covered the South Wales Police investigation, legal advice to the Police Authority and Bernard Lawson's secondment from Merseyside Police to be Cumbria's temporary Chief Constable.
Mr Hyde said he was given little information about the content of the allegations and he had not ruled out taking legal action.
A statement from Mr Rhodes said: "The suspension was undertaken in accordance with the police regulations.
"As a public body, there are strict legal rules as to what information can and should be released.
"The office of the PCC will always endeavour to be as open and transparent as possible."
See the full story on BBC One's Inside Out in the North East and Cumbria on Monday 3 February at 19:30 GMT.