Family pay tribute to A595 crash victim Margaret Bold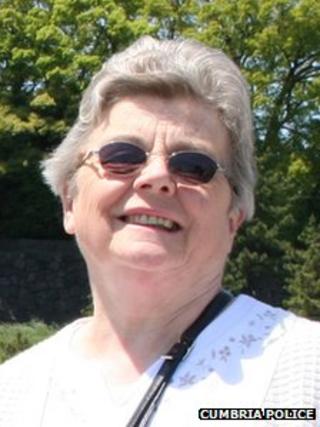 The family of A595 crash victim Margaret Bold have paid tribute to the 76-year-old.
Mrs Bold, from Mansion Gardens, Egremont, died when a Ford Kia and a Peugeot 508 collided at Bigrigg on Saturday morning.
Born in Cheshire, she had moved to Cumbria in 2008 to be closer to members of her family.
A statement said she would be sadly missed by her two sons.
It said: "Margaret was born in 1937 in Cheshire, where she lived most of her life.
"She married Alan in 1958 and they enjoyed life together until he sadly passed away in 1988.
"Margaret originally trained as a hairdresser, serving her apprenticeship at Owen Owen in Liverpool before opening her own salon in Halton Village.
"After starting a family, Margaret joined the Cheshire Building Society where she worked until retirement.
"Margaret moved to Cumbria in 2008 to be closer to family and very quickly adapted to life here, becoming an active member of the local church, Mother's Union, Women's Institute and flower club.
"Margaret is survived by her two sons and their families who will sadly miss her."
Mrs Bold's passenger in the Ford Ka, an 86-year-old woman from Egremont, was taken to was taken to the Royal Victoria Infirmary at Newcastle by Air Ambulance. She was in a critical but stable condition.
The 40-year-old male driver of the Peugeot, from Whitehaven, was taken to West Cumberland Hospital.