Workington leisure centre: Referendum to be held over plans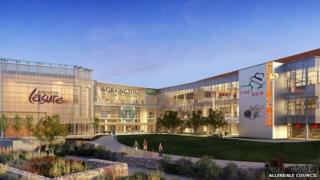 A referendum is to be held over plans to build a £9.41m leisure centre in Workington.
The parish poll follows Allerdale Borough Council's decision to build on land adjacent to Brow Top in the town.
It was called by a group of electors in Workington civil parish on Wednesday under the 1972 Local Government Act.
The issue will be put to the community on 13 March with the costs of the poll being met by Workington Town Council.
But a spokeswoman for Allerdale said "it does not have any legal obligation to consider the results of the poll".
The site was chosen by Allerdale's executive in November, but Moorclose ward councillor Denis Robertson claimed it was unsuitable.
Mr Robertson said the area was a flood plain and building there would potentially "put lives in danger".
He also claimed the ground was contaminated following illegal coal mining in the late 1700s, and added the Moorclose community would suffer if the centre was built there.
A complex in his ward is to be demolished because Allerdale said it was no longer fit for purpose.
An Allerdale spokeswoman said: "This poll will be completely independent of Allerdale Borough Council.
"The residents of Allerdale were given three options for the type of leisure centre they would like to see on one of two sites, Brow Top and Moorclose.
"Of more than 1,600 people who responded to the consultation, the majority said they would prefer the Brow Top site."
The new complex, due to open in 2015, would have a sports hall and swimming pool.