Carlisle play parks: Thousand-name petition handed in over planned cuts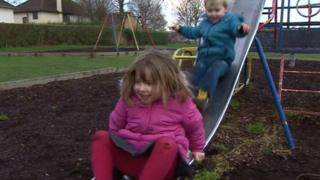 A 1,000-name petition opposing plans to remove play equipment from 21 Carlisle parks has been handed in to the city council.
The authority announced the move last month in a bid to save £25,000 a year and citing the high cost of bringing play equipment up to standard.
The Labour-run council must trim almost £4m from its £13m annual budget.
One parent Michael Kingston said: "Feeling in the area is really strong on this issue."
Mr Kingston was among parents who visited Carlisle Civic Centre earlier and added: "We've handed the petition into the council in the hope they will overturn their decision.
"I've been knocking door to door and street to street. We are standing up as a community to show we are not prepared to accept the decision."
The council said it cannot afford the salary of an inspector to check the city's play parks and bringing the ageing equipment up to standard would also be too expensive.
Deputy council leader Elsie Martlew said: "It is a historical problem. It started in 2010 when the then administration wouldn't look at a play area review and instead cut the funding of £50,000 a year capital and the revenue costs on top of that.
"We are not closing the door. If any group wants to come to us with their proposals to take on the play area of their choice we would obviously listen to them and give any advice we possibly could."
The council is planning to meet parents next week to discuss the situation, even if the cuts are agreed at a meeting on Thursday.