Concerns raised over West Cumberland Hospital staff shortage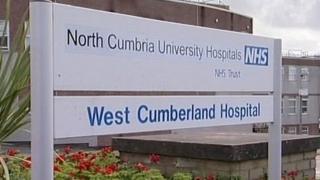 Concerns have been raised over a shortage of doctors at a Cumbrian hospital.
Three junior doctors were taken off the wards at West Cumberland Hospital in Whitehaven last week because there were too few senior staff to supervise them.
The trust which runs the hospital has now taken on three temporary locums but said recruitment "remains a challenge".
The Royal College of Nursing insisted health chiefs must tackle the shortfall of permanent staff "urgently".
Dr Jeremy Rushmer, medical director of North Cumbria University Hospitals NHS Trust, described the appointment of the locums as "an interim measure and clearly not a long-term solution".
One of the three has already begun work at the hospital with the others due to start on Monday.
He said: "Recruitment of permanent consultants and doctors remains a challenging issue for us but one that we are determined to do all that we can to conquer."
He added that a recruitment drive being launched on Monday would mean the trust is "taking every possible step to recruit the best candidates into the vacant positions across our hospitals".
'Not sustainable'
But Estephanie Dunn, operational manager for Royal College of Nursing Northern Region, said her organisation "remains concerned by the continuing problems with staffing levels".
She said: "The use of locum doctors is not sustainable and is an expensive temporary solution for a trust which already faces a bleak financial future.
"It must get to grips with recruiting permanent consultants, doctors and nurses urgently."
Jamie Reid, Labour MP for Copeland and Shadow Health Secretary, criticised "emergency stop-gap appointments".
He said: "Bringing in locums is like bringing in supply teachers to run a school or people on short-term contracts to run a business.
"There's no plan for the future in that. We need to see permanence now."