Refit puts Windermere ferry out of service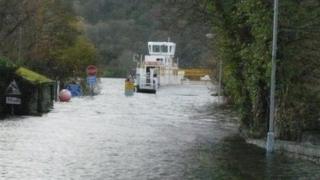 The car ferry on a lake in Cumbria is to be taken out of service for five weeks for a £300,000 overhaul.
Mallard, which operates using cables running under the water, carries up to 18 vehicles and 100 pedestrians across the narrowest part of Windermere.
The service will end on 28 April, and resume on 24 May.
A ferry will be provided from Bowness Bay for foot passengers, but motorists will have to make a lengthy detour around the lake.
The vessel operates throughout the year between Ferry Nab, Bowness, and Ferry House, Far Sawrey and helps reduce congestion on roads around the lake.
During its five-yearly refit any necessary maintenance will be carried out and it will be inspected by the Maritime and Coastguard Agency, Cumbria County Council said.