St Bridget's Church £480,000 ceiling restoration complete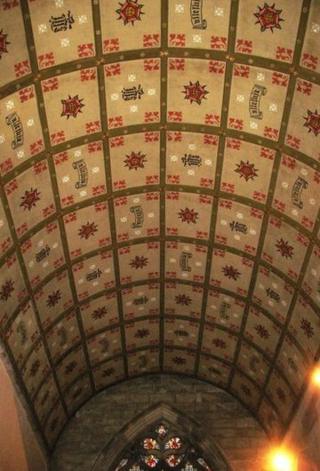 Work to restore the ceilings of one of Cumbria's oldest churches has been completed.
St Bridget's in Brigham, received £48,000 of lottery funding to repair its damaged ceilings.
Designed by William Butterfield, the 150-year-old painted panels were put in danger by a leaking roof.
Project organiser Derek Bainbridge said he was "thrilled" to see the "architecturally significant" ceilings restored "so beautifully".
The painted panels in the Grade I listed church date back to the 1860s and are believed to be among only six surviving examples of Mr Butterfield's work in the country.
The panels with the worst damage were replaced, while others were restored and cleaned.
Mr Bainbridge, said: "The panels are particularly important as they are made of paint on plaster, rather than on wood, and experts said it was of national interest to preserve them because of their rarity.
"The paint had become very fragile and, when the leak rotted the beams, the only way to repair it was to take sections of the ceiling out. That was when we launched the project to restore the ceiling to its original condition."
It is believed St Bridget's was founded as part of an early nunnery. It displays many pre-Norman carved stones in its 14th Century chantry chapel.
The tower dates from around 1220 and other attractions include stencilled roofs dating back to 1865 and 1875.