Carlisle play parks: Petition calls for U-turn over cuts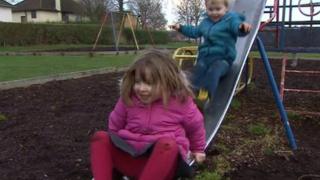 A 1,300-name petition calling for equipment to be reinstated at a city play park has been handed in to a Cumbrian council.
Families from the Botcherby area presented it at a meeting of Carlisle City Council on Tuesday.
The authority has removed equipment from 14 parks across the city in a bid to "save up to £400,000 in maintenance and renewal costs" in coming years.
The Labour-run council must trim almost £4m from its £13m annual budget.
In Botcherby, fixed play equipment has been taken away from Broadoaks Grange and Scotby Gardens.
However, the council says three other parks in the area - Keenan Park, Melbourne Park and Eden Park Crescent - are "strategically important sites which will receive continued investment and development".
Jeff Bomford, who has a two-year-old son, said: "The ones we have got left are not catering for all ages."
'Alternative provision'
A council spokeswoman said: "Sites where the equipment is no longer able to sustain a high standard of play value due to its age or condition and those sites which do not attract many users must be considered for alternative provision.
"In these cases we will replace fixed equipment with soft landscaping."
Councillor John Mallinson, leader of the opposition Conservative group, said: "I would like to see the council go back to square one and talk to people.
"The way the administration managed it was problematic. Consultation was more like them telling people what they were going to do and they enacted it very quickly."
In February, a play park in the Belah area was saved when council officials agreed to leave equipment untouched until funds are raised by the residents' committee to replace them.