Cumbria's special-measures hospitals inspected by CQC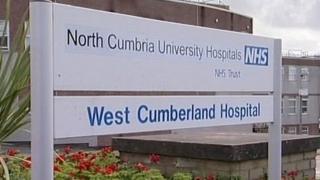 Inspections are under way into the quality of services at two hospitals in Cumbria which are in special measures.
The Care Quality Commission (CQC) is inspecting Whitehaven's West Cumberland Hospital and Cumberland Infirmary in Carlisle after they were singled out over high death rates.
The team will look in detail at eight key service areas including surgery, A&E, maternity and end-of-life care.
A CQC spokesman said the visit would "expose" both poor and excellent care.
North Cumbria University Hospitals Trust was one of 11 put into special measures after the Keogh review found higher-than-expected mortality rates.
'Picture of care'
The trust is among the first to be inspected and given an overall rating under changes introduced by the CQC.
Prof Sir Mike Richards, chief inspector of hospitals for the CQC, said: "The new inspections are designed to provide people with a clear picture of the quality of the services in their local hospital, exposing poor or mediocre care as well as highlighting the many hospitals providing good and excellent care.
"We know there is too much variation in quality - these new in-depth inspections will allow us to get a much more detailed picture of care in hospitals than ever before."
A full report of the inspectors' findings will be published by the CQC later in the year.