Lake District's Blencathra put up for sale to pay tax bill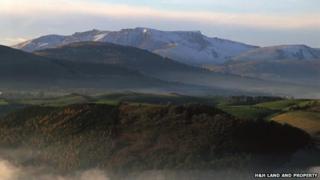 A Lake District mountain is being put up for sale as its owner looks to pay a £9m inheritance tax bill.
Blencathra, which stands 2,850ft (868m) high, is being put on the market by Lord Lonsdale with an asking price of £1.75m.
The sale also includes the ancient feudal title of Lordship of the Manor of Threlkeld.
The mountain was described by writer Alfred Wainwright as "one of the grandest objects in Lakeland".
Lord Lonsdale said: "We don't want to have to make inroads into the core of the estate and we don't want to have to evict tenant farmers and other tenants from their houses so that we can sell them.
"We have a 10-year period in which to pay [the tax bill]. It's getting very close to that now. We have to do something about it."
'Fully protected'
He inherited the title and the estate on the death of his father, the seventh Earl, in 2006.
The Lordship of the Manor of Threlkeld was bought by the Lowther family in the 1620s and they were granted the earldom of Lonsdale in the 18th Century.
In the 17th and 18th centuries, estate tenants had to plough and mow the lordship's fields, shear his sheep and dig and transport peat from the fells.
Today, the title is purely ceremonial.
Any buyer would own 2,677 acres but would be restricted in what they could do with the mountain, which is known as 'Saddleback' because of its distinctive shape.
John Robson, managing director of sale agent H&H Land and Property, said: "We really want the public to know it's fully protected through planning laws and through it being in the [Lake District] national park.
"There's a right to roam on it, it's there for everyone to enjoy."
Sealed bids will be taken from Monday with the closing date 2 July.