Sellafield workers cautioned for contamination breach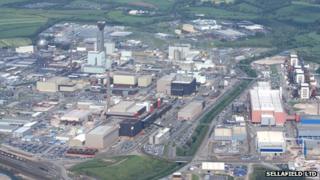 Two Sellafield workers have been cautioned for doing unauthorised work which could have exposed them or others to increased radiation.
They were issued with the formal caution by the industry watchdog after removing a contaminated thermometer from a storage tank to repair it.
Their actions presented a "serious health risk", the Office for Nuclear Regulation (ONR) said.
Sellafield Ltd said it had informed "relevant stakeholders" at the time.
The elevated levels of ionising radiation the pair exposed themselves to during the work last December was within prescribed limits, the ONR said.
But they had also released contamination into an area not designed to prevent its spread, it added.
ONR inspector Steve Vinton said it was the first time the ONR had issued cautions to individual employees.
"This should send out a clear signal that ONR takes a serious view of offences of this nature, and underlines the importance of the need for employees to comply and co-operate with their employer's arrangements for health and safety," he said.
Sellafield said the event had been reported in the company newsletter at the time but would not comment further while its disciplinary process was continuing.