Copeland mayoral referendum: Voters to decide on council's future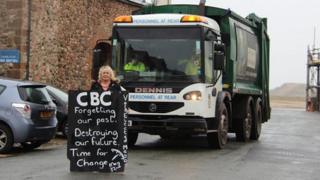 Do people care whether their local town hall is led by an elected mayor or a council leader? Politicians and activists in Copeland, Cumbria, will find out on Thursday.
A referendum offering voters the opportunity to convert to the mayoral system will take place on the same day as the European Parliament election.
The poll was secured after campaigners gathered enough signatures on a petition to force Copeland Borough Council to hold the ballot.
The Yes camp is encouraging people to vote for change after what they see as "mistake after mistake" from the current Labour-run authority.
Spokesman Bern Birbeck argues the current system does not give people enough of a say, but Labour council leader Elaine Woodburn insists the mayoral model is less democratic.
Mr Birbeck says: "The present council leader, who's been in post for 10 years now, gets voted in by less than 1% of the population of Copeland. The voting population is in the region of 55,000 and over 99% of people do not have a say in who is the council leader.
"That is not democracy. We are going for one person, one vote."
The Yes campaign eventually collected 1,000 signatures more than the legal threshold to trigger a referendum and Ms Woodburn believes much of that frustration was borne out of decisions the council made following a reduction in government grants.
"As soon as we closed down facilities they got the number of signatures," she says.
The closure of Whitehaven Civic Hall led to protests and the council made the unpopular decision to close some public toilets.
Ms Woodburn says financial circumstances meant those calls were inevitable and is concerned a Yes vote would only lead to a different individual facing up to the same realities.
"Whoever got the job, in the event of a yes vote come 22 May, would be handed a poisoned chalice because they're not going to be able to reverse the decisions that have been taken and they'll have a £1.4m deficit that they'll have to fill.
"People think they're going to be able to change everything for the good but that's not the case. We have to work with the county council and while we can try and influence, we have no control over how they spend their money or deliver their services."
The campaign, at times, has been hostile. Ms Woodburn says "personal attacks" have been directed her way while Yes supporters say they have been "smeared" as being anti-nuclear.
The Sellafield nuclear plant is the area's dominant employer and Copeland is also embroiled in the controversy surrounding the government's search for an underground repository for the country's nuclear waste for an underground repository for the country's nuclear waste.
Ms Woodburn - who would "seriously consider not standing" in any mayoral vote - says opponents to the facility being located in Copeland have attached themselves to the Yes campaign but Mr Birbeck, who worked at Sellafield for more than 30 years, insists his group is "pro-nuclear".
"Our view of the nuclear situation is that if a person who knows and understands what they are doing can broker a good deal in order to maximise the benefits for our area then that would be tremendous," he said.
Mr Birbeck believes the "intense local interest" will lead to a turnout of about 30% - with voters motivated by "the failings of the present regime" but Ms Woodburn's worry is that people have "failed to understand" the debate.
"I have no problem with people calling for a referendum," she says. "I stand for election every four years and I either get elected or I don't. I have the utmost respect for the people of Copeland and if they want to change the system then that's their choice but they need to make sure they know the facts.
"Just by getting rid of me won't make everything better."
Mr Birbeck says his group is not political and is simply striving to change the form of government.
"Me and my associates are of the belief that the council is not fit for purpose."
The two camps do not agree on much but it is voters that will have the final say on Thursday.