Labour and Lib Dems hold Cumbrian councils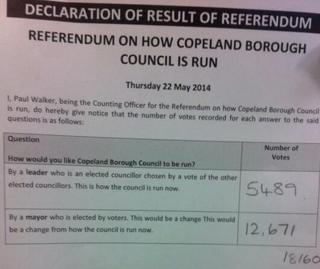 Labour retained Carlisle City Council and the Liberal Democrats kept control of South Lakeland District Council.
In Carlisle, Labour gained one seat, the Conservatives held on to theirs and the Lib Dems lost a seat.
In South Lakeland, the Lib Dems lost one seat, with the Conservatives gaining one and Labour holding theirs.
In Copeland a referendum on the post of elected mayor delivered a resounding yes vote, with more than two-thirds in favour of the system.
There were 12,671 in favour and 5,489 against and an election could take place within six months.
Carlisle Lib Dem leader, councillor Trevor Allison, said: "At the end of the day we fought this election against a backdrop of polls which were pretty dismal for us.
"But that's politics and things could turn around for us quite quickly - so let's see next year. I look forward to it."
Labour prospective parliamentary candidate, Lee Sheriff, who hopes to win a seat next year, said: "The Lib Dem vote collapsed. We've held our own - especially with being the party in power on the city council.
"So it is a good result in my opinion."
John Stevenson, Conservative MP for Carlisle, said: "I think it is very positive - it is a good base to build on for the general election."
In South Lakeland, Lib Dem council leader Peter Thornton said voters had been attracted by the party's "positive housing agenda" which will see thousands of homes built over the next 10 years.
He added: "Voters haven't swallowed Conservative propaganda."