Blencathra purchase fundraising 'going brilliantly'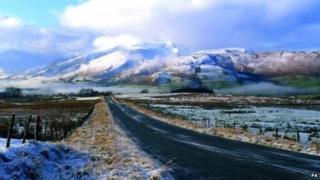 A community group raising funds to buy a Lake District mountain has said its campaign is "going brilliantly".
Blencathra was put on the market by the Earl of Lonsdale in May to help pay off a £9m inheritance tax bill.
Friends of Blencathra is in the process of raising the £1.75m needed to buy the mountain and said it was delighted by the interest shown so far.
Thousands of people have pledged a donation, and the group is now targeting local businesses.
'More special'
The group wants to buy the mountain to ensure public access is retained and has a month to raise the money needed.
Debbie Cosgrove, from the group, said: "It's going brilliantly. People have been absolutely amazing.
"We've got about 7,500 followers who have all said they will pledge something.
"We're now stepping up the campaign and inviting people who've got businesses to look at their corporate responsibility programmes and see if that's something they'd like to get involved with as well."
She added: "It's a really exciting opportunity to say 'I was there, we did something'.
"When you see that mountain it will make it all the more special."