Sellafield's oldest nuclear storage pond to be decommissioned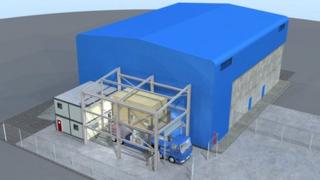 The world's largest open air nuclear storage pond, at Sellafield in Cumbria, is being decommissioned to make the site "safer".
The Pile Fuel Storage Pond, built in 1948, was originally used to store fuel from the Windscale Pile Reactors.
Now, the radioactive sludge will be moved from the pond to a modern waste treatment plant.
Project Manager Chris Plane said the new plant will reduce "sludge hazard" and will be operational next year.
The Drum Filling Plant is designed to accelerate sludge retrieval from the pond by more than three years.
Using a petrol-pump style design, the plant said it will export the sludge from the pond at a "fraction" of the cost.
'Tomato ketchup'
The pond ceased operation in the 1970s, but it is one of four sites at the plant that is identified as a top priority for risk and hazard reduction.
Dorothy Gradden, head of the Pile Fuel Storage Pond, said it was one of the "most challenging" decommissioning projects on the site.
She said: "The plan is to decommission and empty the pond to make this historic plant safer sooner.
"However, before the pond water can be drained, the radioactive sludge has to be removed. This sludge is similar in consistency to tomato ketchup and lies at the bottom of the 7m-deep pond."
Mr Plane said move will provide a "cost effective solution", which will save UK taxpayers money.
The estimated cost of the clean up of Sellafield's old reactor, redundant structures and stored waste had risen to an "astonishing" £70bn, the Public Accounts Committee said in February.
It said progress had been "poor" but the consortium in charge of the site, Nuclear Management Partners, said it faced "unprecedented" challenges.