Plea for investment in "slow and old" Cumbria railways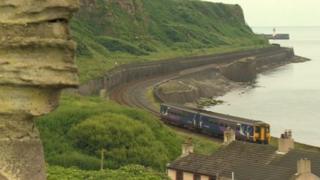 Spending on Cumbria's railways has been defended by the government after criticism of local services and the decision not to bring the proposed high speed rail line to the area.
Slow journey times and 30-year-old rolling stock have been attacked by passengers, unions and MPs.
Carlisle MP John Stevenson said an express train from the city to Newcastle was essential.
The government said it was investing £1bn in the region over five years.
Transport minister Robert Goodwill said: "Before the last election there were many saying that we were going to embark on a Beeching-style round of cuts and all these loss-making services in the north of England would be shut down and stations would be shut.
"We haven't done that. We've shown a commitment to keeping these local services going."
David Andrews, of Copeland Rail Users' Group, said there was a "crying need" for new rolling stock.
"The railway is vital for the economy of the area," he said. "It's important for tourism and lots of people use trains to get to hospitals in Hexham, Newcastle and even Middlesbrough."
Cumbria's services are operated by Northern Rail, which said below-average scores in the latest National Rail Passenger Survey were better than last year's, and that it was listening to customers and continuing to improve.
The government's consultation on the future of rail services in the north runs until 18 August.