Rare high brown fritillary butterfly helped by cattle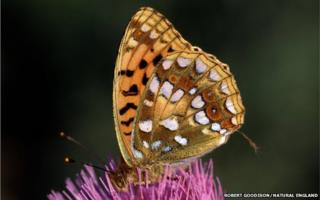 Cattle at a Lake District hill farm are helping to make a habitat for a critically-endangered butterfly.
A herd of Luing cattle is being used to create a haven for the high brown fritillaries as part of a scheme by Natural England.
The species' population has fallen by more than 90% since the 1970s.
Area manager Simon Humphries said the cattle were excellent "where conservation grazing is needed and very well-suited to the uplands of Cumbria".
Their trampling and grazing keeps bracken at High House Farm, Winster, in check. This in turn allows violets - the butterfly larvae's favoured food - to grow.
Farm manager Alec Smith said: "The Luings have demonstrated many valuable benefits to our farm and to our landscape.
"We needed a breed that could manage adequately our rough, Lakeland land with minimal handling, yet still deliver productivity and a high commercial yield."
Natural England has found Luing cattle to be among the best traditional cattle breeds for "conservation grazing".