Blencathra sold to 'unnamed party'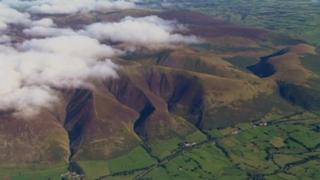 A mountain in the Lake District that was put up for sale earlier this year has been sold to an "unnamed party".
But the community group Friends of Blencathra, which tried to buy the mountain, said it was in a position to match the winning bid.
H&H Land and Property, the agents handling the sale, said they accepted a bid higher than the community group's.
Group chair Debbie Cosgrove said she was "bemused" at the owner's decision.
The property agents confirmed the successful bidder had offered more than the £1.75m asking price.
Ms Cosgrove said the group was told about the higher offer earlier, but had made it clear it was prepared to match the bid.
'Significant shortfall'
She said: "What we said was that we would literally need to just look at what we would do, how we would do it and come back to them.
"Before we'd even had time to do it my phone started going, saying that the news had already gone out that we'd lost it, so we are absolutely bemused."
The mountain, also known as Saddleback, was put on sale in May by its owner Hugh Lowther, Earl of Lonsdale, to help settle an inheritance tax bill.
The Friends of Blencathra group was quickly established as a charity in an attempt to bring the mountain "into public ownership".
The group quickly achieved thousands of supporters and put in a bid in time for Wednesday's deadline.
But H&H Land and Property said there was a "significant shortfall" between the group's offer and that of the unnamed party.